All ages and nationalities welcome! Come and Learn Chinese in China with us today.
Our group programs will allow you to make friends with your classmates and experience first rate Mandarin lessons simultaneously.
Chinese classes in Beijing with LTL are specifically kept small. This is to allow you to form a close bond with your teacher and fellow students and increase the speed in which you learn Chinese.
Our school is a comfortable and friendly environment to study Mandarin and you will be made to feel at home at the best Chinese language school in China.
Chinese Classes in Beijing – Average under three students per class
No more than six students – Average class size less than three
Friends for life – Get to know fellow students
Diverse lessons – Speaking, Listening, Reading and Writing
Community – We pride ourselves on being a tight knit family
24/7 – Emergency? We are always here to help whatever the hour
Knowledge – Years of experience mean we can advise daily
Student Advisor – Always here to assist you with any queries
Duration
% OFF
Standard
(20h group)
Intensive
(20h group + 10h 1-on-1)
1 week
0%
2,362
4,789
2 weeks
2%
4,608
9,345
4 weeks
7%
8,773
17,789
8 weeks
16%
15,895
32,231
12 weeks
24%
21,600
43,800
13 – 52 weeks
24%
1,800/wk
3,650/wk
We also offer a special discount if you book your Chinese course over the Christmas period. Visit our Discounts and Supplements page to find out more.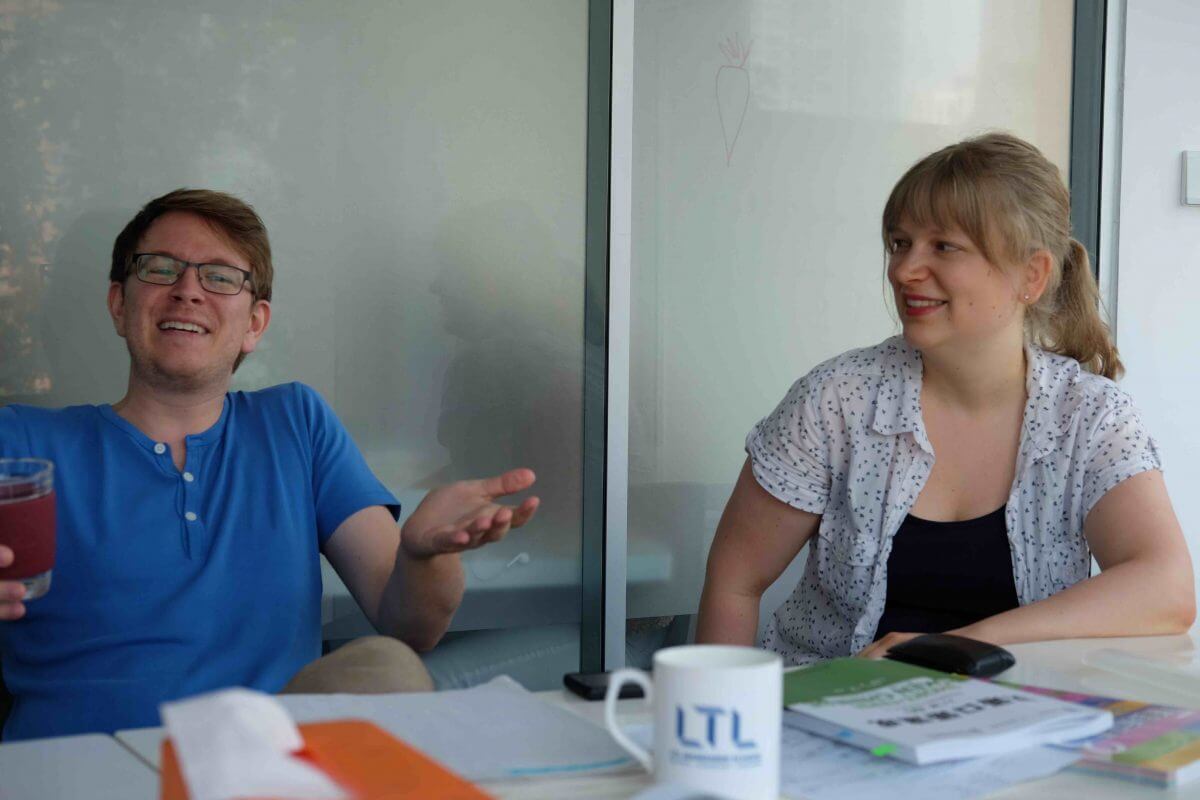 Our personal assessment is something we do before you come to take you Chinese classes in Beijing.
You will speak to us via Whatsapp, Skype or a phone call. NOTE – Our assessment is not a test.
The assessment will involve a short chat with our Director of Studies and a number of basic questions. We do the rest.
There are plenty of restaurants and shops around if you wish to eat lunch outside of school or go shopping.
The nearest metro stop from the school is Da Wang Lu which is located on Line's 1 and 14 of the Beijing Metro.
All our teachers hold a University Degree in Teaching Chinese as a Foreign Language and on top of that they have at least 5 years teaching experience. You have to be the best to work at LTL and it shows in our lessons.
When you come to study Chinese in China you are in the best hands possible.
It's a great environment to learn Chinese in China, and due to our tight knit nature we make everyone feel at home immediately.
We have 17+ classrooms, a kitchen with free tea, coffee and beer and a safe and relaxed place to study Chinese.
There are lots of interesting places to visit in China as well as great things to do in our school cities. Make sure you discuss an outline of your plans with your student advisor during the booking process to make sure you'll have enough time on your visa.
Every student has different goals aims but ultimately the group class is all about getting your Mandarin ahead as quickly as possible.
Your speaking, reading and writing will improve daily and you can further enhance that by adding on one of our 1 on 1 programs.
This is a key reason why class sizes are kept small. Every student will get ample opportunities to speak Mandarin in class. We believe strongly in getting every student talking as early as possible.
You are learning Chinese in China, so you have to make the most of the opportunity and talking Chinese as much as you can, is vital.
In four hours, we will teach you new grammar concepts, new vocabulary and new ways of speaking.
Every little bit of Chinese helps and luckily for you we have a host of apps to recommend. Our favourite Chinese learning apps are featured in our blog. We rate and review them. Included are Duolingo, Skritter and Chineasy.
Studying Chinese as a Mature Student
Having self-studied Mandarin on and off and being ok at reading but never making much progress with listening and speaking, I had meant to undertake language immersion in China for a long time. In my 30s and a full time accountant in the UK, it had been difficult to find the time to do this. An opportunity arose when I moved jobs last autumn but I had only two weeks available for the trip and so I wanted to make the most of this limited time. Homestay seems the best way to do this and was one of the main reasons I was interested in LTL, which consistently emphasises homestay as an important part of the language learning experience.
It was only the week before the planned trip that it was confirmed I could take the two weeks as annual leave. This meant some fairly frantic last minute visa arrangements (which LTL supported helpfully although it is clearly not an approach they would encourage) and some anxious moments waiting for confirmation that everything was in place. It was only after clearing immigration at Beijing that my heart was finally set at ease and I felt this long-awaited adventure was actually going to happen.
Once in Beijing and being unable to even have much of a conversation with the taxi driver on the way into the city from the airport, I realised my spoken Mandarin was even worse than I had thought. However, my homestay family, in the south of Beijing, were kind and encouraging right from the beginning, making an effort to speak clearly and to draw out coherent sentences from me. The father of the family in particular also took time to talk with me over dinner (excellent food, by the way) about all sort of topics. While a homestay can be a little nerve-wracking if like me you're not already at a reasonable level of fluency, and you will find yourself looking up a lot of household items in the dictionary, this is the quickest way to improve fluency and I very much recommend this approach over a hotel or lodgings with other students.
The school itself is as other bloggers have described; bright, friendly and in a convenient part of town (and close to some nice restaurants). The group classes, being small, work best with a lot of conversation in Mandarin and limited use of learners' home languages (typically English and German). It must be said, the school is not cheap but teachers are qualified and experienced and they care about their students' progress which on balance I think is probably worth paying for. There is a sociable atmosphere and I particularly liked the fact that teachers and students ate lunch together. While some of the students are university students (or straight out of high school), age was not nearly as much of an issue as I had expected, and with students having a variety of backgrounds I was reassured not to be the only 'oldie'.
Since returning to the UK I have tried to continue studying in my spare time. I recently passed my HSK4 exam and this is largely thanks to those two weeks in Beijing which gave me a much stronger base of listening and speaking from which to continue self-study.
I look forward to one day going to Chengde for the even more immersive program!
This content was originally published here.