Nurse Who Doesn't Speak English Prepares Hilarious Note For Foreign Student
Cultural differences and language barriers can result in hilarious travel anecdotes that a person never forgets. And as one international student who was staying at a hospital in China realized, they can also make your stay in the country much more fun.
The student in this story was hospitalized in China and assigned a nurse who didn't speak English. Still, the responsible nurse knew that she had to inform the student about medical information concerning his wellbeing somehow.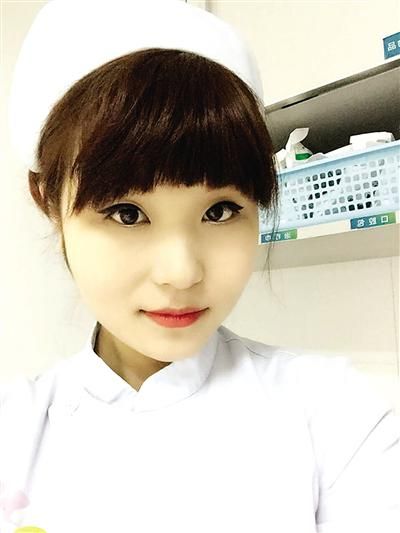 That's when the nurse came upon a brilliant idea to put her thoughts onto a paper in the shape of brilliant (or frightening) graphics.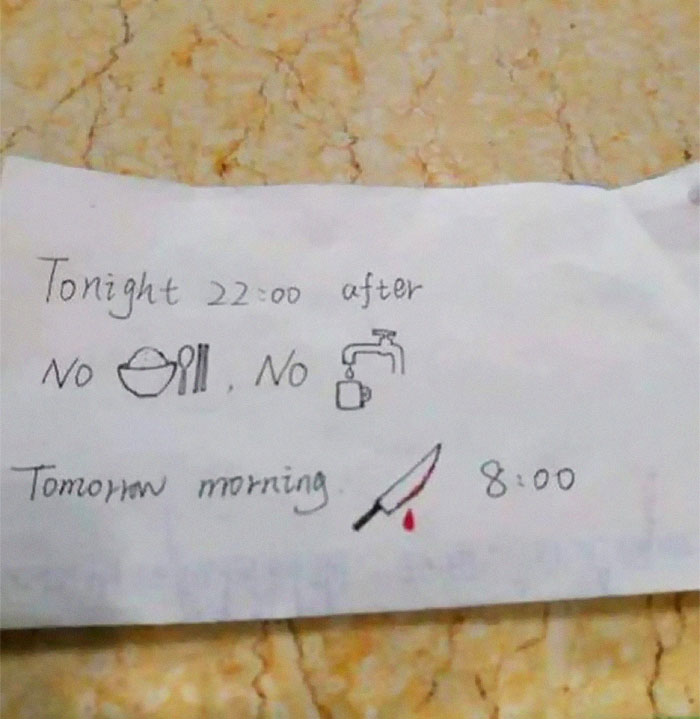 While her message was pretty clear (no eating or drinking after 10 pm, surgery at 8 am), the internet users couldn't help but come up with their own hilarious interpretations after the student had shared the note on Reddit.
"Without context, it looks like a note of someone stranded somewhere with no food or water, and they're just gonna end their suffering at a specific time for some reason," one person joked.
"No food no water tomorrow morning we gonna eat you at 8:00," another one wrote.
"For those that need a translation: Tonight after 10 pm no eating or drinking. Tomorrow at 8 am you will be murdered," one person explained.
While some people went on to claim that the note is fake, others were suggesting that the nurse was trying to be cute and funny on purpose.
After a wave of comments suggesting that the student drew the note himself to get the attention, one user wrote:
"Something that says this note is genuine to me: the grammar. The word 'after' is written after 'Tonight 22:00', which is exactly how the sentence would be constructed in Chinese (今晚22:00過後). The writer does not even write 'tonight at 2200 after' as the word 'at' would not be present in the sentence in Chinese.
"People saying this has to be fake are seeing the note through their English speaking lenses.
"Q: Why not use Google translate?
"A: Because if you don't 100% understand the language you are translating to, you will not trust the translation, especially for something as important as an operation. Besides, Google is banned in China.
"Q: Why can the writer write 'tomorrow morning' but not 'food' and 'water'?
"A: He/she may have wanted to draw the pictures to be cute, or he/she really may not have been confident enough in spelling to write those words. To a native English speaker, 'food' is easier than 'tomorrow' because it's shorter, but a non-native speaker only knows what he/she has been taught. To use Chinese as an example, the character for 'square' is way easier than the word for 'tomorrow', but a non-native speaker is far more likely to learn 'tomorrow' (and the numbers one to ten) first.
"I'm not saying the note is definitely genuine, but a lot of the comments dismissing it as fake are not offering compelling reasons."
What are your thoughts on the nurse's note? Let us know in the comments and don't forget to SHARE this post on Facebook!
Recommended Video – "The Hilarious Police Lip Sync Challenge Reaches Virginia Beach Police Department"
The post Nurse Who Doesn't Speak English Prepares Hilarious Note For Foreign Student appeared first on Small Joys.
This content was originally published here.