In the past few weeks, you might have rediscovered your love of puzzles or some of your favorite childhood board games. The French, too, have been playing more jeux de société than ever, as Les Echos recently reported. But what are the best games that French people play? Of course, they love Monopoly, Scrabble, and Trivial Pursuit, but they also play games that are little known outside of France like Les loups-garous de Thiercelieux. Below, we've listed some of the best board games that you can buy to practice your French as well as French games that you can play right now online for free!
By Sophia Millman
Games You Can Play Online
Blanc Manger Coco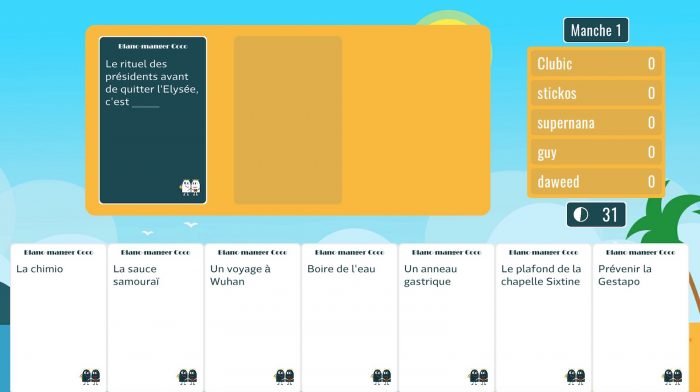 If you're a fan of Cards Against Humanity, you've got to try out its French equivalent! The rules are simple: a card has a fill-in-the blank sentence on it, and you've got to choose the funniest word or phrase to complete the sentence. Because the game is "politically incorrect," you've got to have a good sense of humor to enjoy playing it. Since you'll need a strong vocabulary to understand the French sentences, we recommend playing only if your language skills are intermediate/advanced. In the online version of the game, you can invite four friends to join a private room to play with you. 
Les loups-garous de Thiercelieux (or just "Le Loup Garou")

This version of the Russian game Mafia is incredibly popular in France. Translated as the The Werewolves of Millers Hollow in English, it can be played with 6 to 40 players. Each player plays either a villager (whose goal is to identify and kill all werewolves) or a werewolf (who wants to eliminate all villagers before being discovered). There's also a narrator, who walks the players through the game. Whether you play the narrator or one of the other characters, you'll have plenty of time to practice your French, since the game is all about persuasion. You can find the rules of the game in French here. There are a lot of different variations of the game, so if you're unfamiliar with it, you might want to check out the rules in English on Wikipedia. 
Number of players: 6 and up

Watch a French person explain the game

here
Trivial Pursuit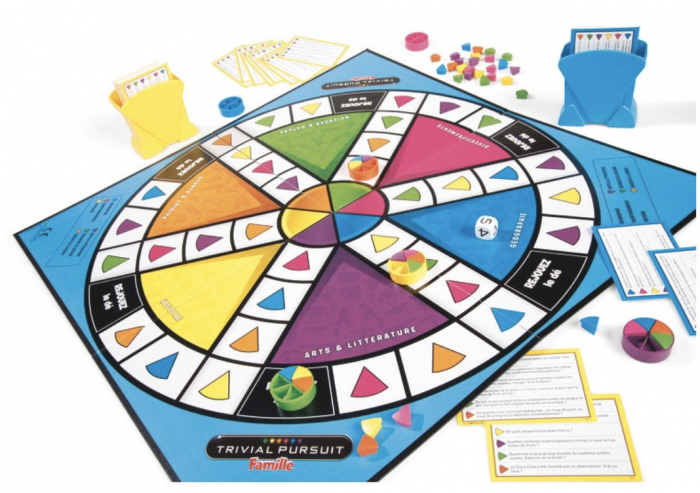 Did you know that Trivial Pursuit was created by a French Canadian in 1979? And here's another fun thing to know: the small plastic playing piece that you need to fill with wedges to win the game is called le camembert in French! The French love playing trivia, and this is one of the most popular games in France, after Monopoly and Scrabble. Because many of the questions are specifically focused on French culture and history, we recommend that you buy the édition famille, which is best for students studying French. 
Time's Up!

This game was invented by an American, but it's more popular in France than in any other country. Time's Up! has three rounds. In the first round, the clue-giver has to make his teammates guess the names of famous people by giving them hints. In the second round, the clue-giver can only give one word per famous person, and in the third round the clue-giver has to mime actions until the other players guess the famous person. If you like Charades, this is the French game for you. Also, it's a great way to practice describing people in French. 
Number of players: 4 or more, played in teams

You can play the game on the

Time's Up!

on iTunes. 
Other online games we recommend:
French Games You Should Play In Person
Cluedo

Like the British, the French call Clue "Cluedo," and in the French game the characters' names are a bit different. Mrs. Peacock, or Madame Pervenche, for instance, is named after a blue flower instead of a bird. You don't need to buy the French board game if you already have the American one. Instead, you can practice your French by translating the weapons' and rooms' names as you play. You can find the rules in French here. Try saying sentences like, "Je pense que c'est le Docteur Olive avec le revolver, dans la cuisine." 
Number of players: 3 to 6
Le Petit Bac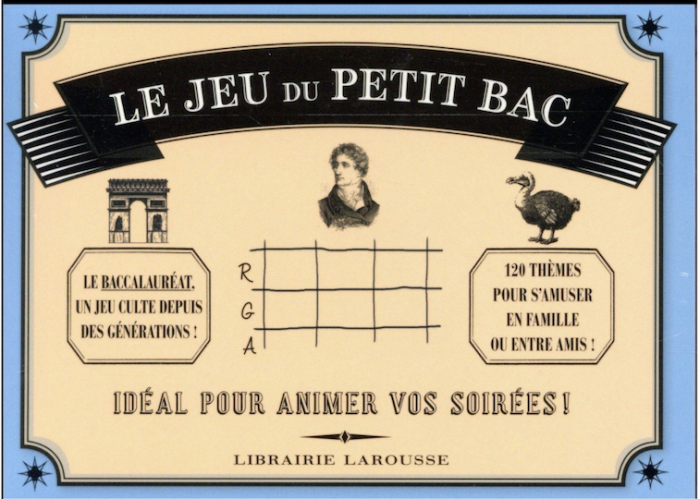 There are many different versions of the French equivalent of Scattergories, and the best part is you can make you own game at home with just paper, pencils, and a timer. In the jeu du baccalauréat, colloquially known as le petit bac, you have a limited time to come up with a series of words that all begin with the same letter. You decide which categories of words you want⁠—household objects, something you drive, boy's names, etc.⁠—before the game begins. This is an excellent way to review French words by theme! 
Number of players: 2 and up

You can buy a version of

le petit bac

here
Burger Quizz

Burger Quizz is a French TV Series that began airing in 2018 and became incredibly popular in France. On the show, two teams called Ketchup and Mayo have to answer crazy (and often hilarious) trivia questions in order to win 25 points. The winning team has to validate the points by passing a "Death Burger" test, in which the presenter asks ten consecutive questions and the candidate must answer them all correctly in the order they were asked. The board game version of Burger Quizz is almost identical to the show, and it's a great way to practice your French if you're at an advanced level. 
Qui est-ce?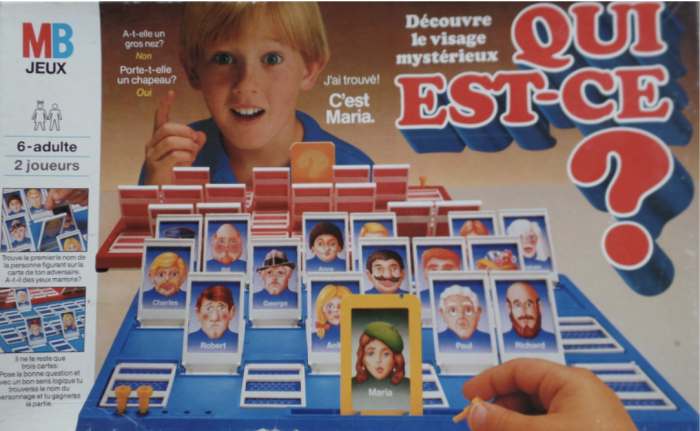 Called "Guess Who?" in English, this game became very popular in France during the 1980s. While American kids were playing Sorry!, French kids were playing "Qui est-ce?". Both players have cartoon images of 24 characters propped up in front of them. A player selects an image from a separate pile of cards and the object of the game is to guess which card your opponent has selected. Players ask yes or no questions like, "A-t-il un chapeau ?" ("Is he wearing a hat?"). The first player to guess the person's character wins. 
Classic French Card Games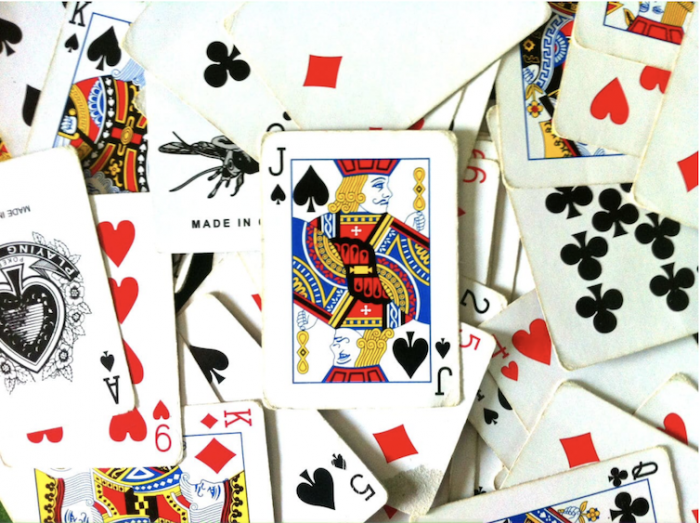 Did you know that the standard deck of cards you can buy in the US originated in France? There are Spanish, German, and Italian playing cards, too, but French cards are the most well-known in Europe and the US. While there are of course different styles of French cards, the Bicycle brand cards pictured above feature the common "Paris Pattern." Some of the most famous card games originated in France, like Vingt-et-Un (Twenty One). Below, we've listed popular French card games that you might not have heard of. 
Les jeux: 
French Cards Vocabulary
Les couleurs (the suits): 
Trèfles

♣: Clovers or Clubs

Carreaux

♦

: Diamonds

Cœurs

♥

: Hearts

Piques

♠: Spades
Les honneurs: 
As: Ace

Roi: King

Dame: Queen

Valet: Jack
Battre (mélanger) les cartes: to shuffle the cards
Distribuer: to deal
Le jeu de cartes: the deck
Une main/un jeu: hand of cards
L'atout: the trump suit
Some helpful game vocabulary:
Une partie: one round of the game
Les joueurs: the players
Le plateau: the game board
Le pion: the game piece
La marque: the score
Le vainqueur: the winner
Le/la perdant(e): the loser
Le dé(s): the die, the dice
Lancer le dé: throw/roll the dice
Passer un tour: miss a turn
Avancer/reculer d'une case: move forward/back one
C'est a toi!: It's your turn!
Ne triche pas!: Don't cheat!
The post The Best Board and Card Games for Learning French appeared first on Coucou French Classes.
This content was originally published here.